Remote Learning
Powered by Wacom's digital Pen
Online-Classroom:
Improves learning outcomes
between Teachers and Students
via interactive remote teaching Optimal solutions for remote teaching and e-learning are in high demand.
Nowadays, schools and teachers are challenged to develop ideas on how to teach digitally from home.
Wacom for Business offers the best solution for remote teaching.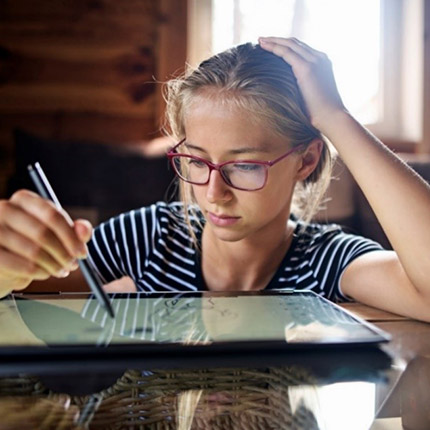 What Wacom offers you
Easy Online Lesson Preparation

Teachers can use Wacom's pen display to transform their static lessons into dynamic, interactive classroom presentations that maximizes student engagement.

Digitally reproduce the daily class

Wacom Pen displays enable teachers to prepare lessons and students to make notes on screen with a digital pen.

It is just like being in the actual classroom

No matter where you learn, the Wacom Pen display brings you the same level of comfort as physical classroom education.
Value-1
For Teacher/Student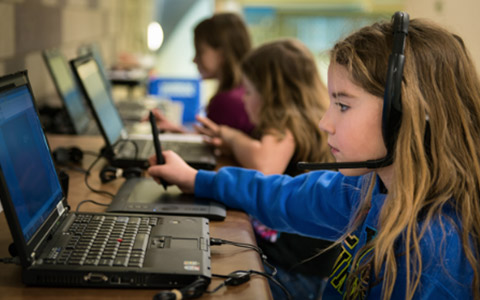 Bridges the distance between teachers and students

Both teachers and students can work more naturally, collaborate on documents simultaneously and share information easily and digitally.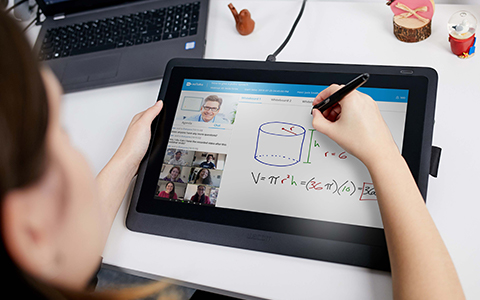 Interactive Teaching

Writing, Screen sharing, Drawing and Annotation makes for more interactive teaching & learning between teachers and students.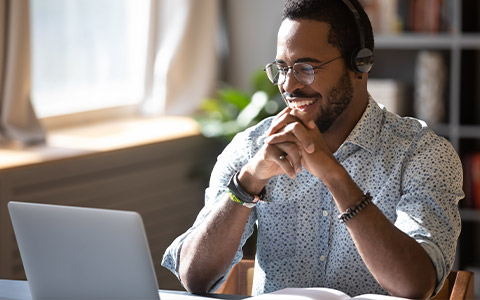 Improved Learning Outcomes

Teachers can enhance the teaching experience as Wacom's Pen Display provides a total digital platform tool for education, such as content saving, electronic feedback to students and the completed files can either be digitally stored, or distributed via email on the school's Learning Management System.
Value-2
For Student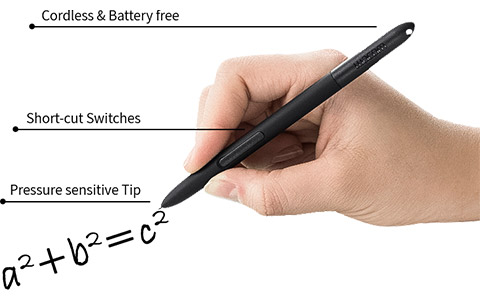 The Educational Value of Handwriting

Studies have shown that writing notes by hand reinforces the learning process. That's because the physical process of writing activates large regions of the brain responsible for thinking, language and working memory.
And, in certain areas, the neural activity within the brain replicates that associated with meditation. This helps to unleash creativity and ideas that might otherwise remain hidden.
Purpose Build Wacom Device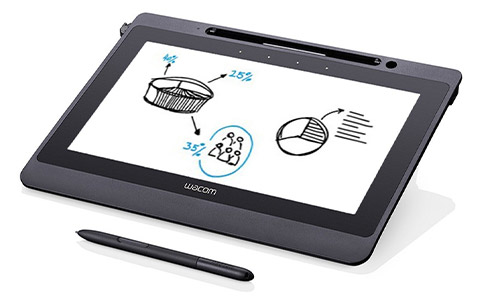 In classrooms, teachers already use digital devices, such as iPads, tablets or laptops, to create lesson plans, engage with students and take notes or provide feedback.
But these devices put a heavy burden on IT staff. Purpose-built devices make things simpler.
The Wacom Pen Experience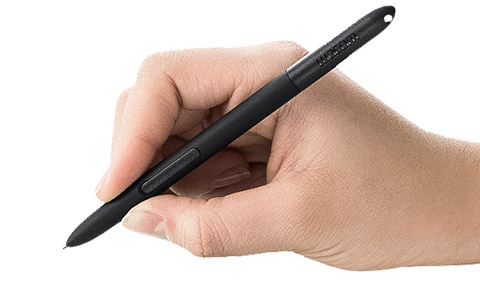 Using a Wacom digital pen and display feels as natural as using regular pen and paper, but with the added benefit of computer mouse functionality. As a result, you can minimize the unnatural twisting of muscles and tendons that causes Repetitive Strain Injury in some mouse users. And because you can write, sketch, sign and navigate with a single device, you can improve your working efficiency and productivity as well!
Video
How to start remote teaching
with DTU-1141B
Using Wacom for STEAM Education
Wacom Remote Learning Brochure
Do you want to know more about Wacom Remote Learning/Teaching's solution?
Download from here
Frequently Asked Questions
Which platforms can be used for online classes?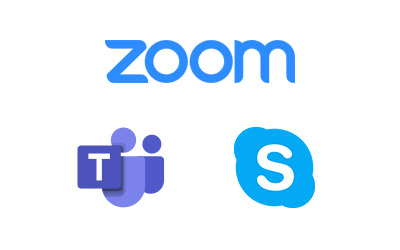 Zoom, Microsoft Teams and Skype are great platforms to connect teachers and students.
They offer group chats, screen sharing and video conferencing for an interactive class. All are free of charge for private users and run on most operating systems (incl. Windows, MacOS, Android) and web browsers.
If Zoom, Microsoft Teams and Skype are not available, teachers can record prompts, briefings and explanations as short videos with a smartphone.
These can be sent out via email or messenger services like WhatsApp or shared on YouTube within a closed group.
What software is available for teachers?

Apart from specialized software and platforms for remote teaching, teachers can also make use of things at hand. MS Office programs, including Word, PowerPoint and OneNote as well as Acrobat Reader or any other program for annotating PDF files can be used to prepare lessons and create teaching materials for the virtual classroom. Another option is OpenBoard (www.openboard.ch), a free and easy to use, browser based digital whiteboard software.
What hardware do teachers need?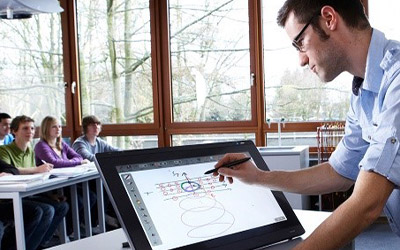 A PC or Mac and an internet connection already cover the basic needs to create a virtual classroom. For more interactive online classes or subjects that rely heavily on graphs or formulas, sketches and visualizations, like Mathematics and Science, a pen tablet or display can be a very helpful addition to the set up.
Wacom Pen Displays are easy and intuitive to use and connect to any computer (Mac, PC, Android). It is like working with classic teaching media such as blackboards, whiteboards or overhead projectors.
Because of the natural hand-eye coordination new users can adapt quickly.
What do students need?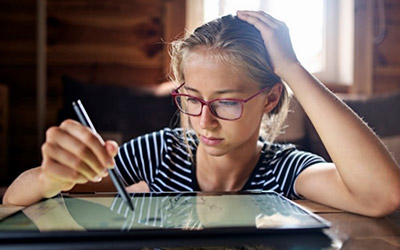 Students will only need a laptop, computer or media tablet with build in speakers and microphone as well as access to the internet to join the virtual class. The respective apps for Skype or Microsoft Teams are easy to install.
Sometimes even a simple web browser will be enough to follow the online lessons.
Learning and Teaching from Home
The following is a brief description of what a lesson in a virtual classroom could look like using Microsoft Teams or Skype, OpenBoard, Microsoft Office, a PDF Annotator and a Wacom Pen Display.
The teacher sets up a meeting in Teams, Skype or Zoom and sends the invitation to the students that should participate. The teacher starts the online meeting, addresses the students via video, creating space for a brief personal exchange.
By switching to desktop sharing the teacher starts the class, presenting prepared materials to explain content and tasks.
In order to make class more interactive, teachers can make use of the pen functionalities in the following software applications. They work best when a Wacom pen display is connected.
Microsoft Office (Word, Excel, OneNote, PowerPoint)

Pointing and Highlighting
Handwriting and annotating
Creating graphs and writing formulas
Sketching and drawing
Ideation and visual thinking
Check the PowerPoint presentation mode
PDF Annotator

Highlighting
Commenting
Annotating
Openboard

Writing, sketching, annotating
Recording of sessions
Infinite whiteboard surface
Offers full digital whiteboard functions
Open for other file formats